Families in Colorado Springs have many options for mountain climbing, biking, hiking and camping, but one frequent question we hear from parents at our outdoor gear consignment store is if we know of any good stroller friendly trails. Especially during the summer and fall months, Southern Colorado families are looking for opportunities to get their kids engaged in the great outdoors while giving the parents a chance to decompress, relax and enjoy the scenery.
The following list of our favorite stroller friendly trails in Colorado Springs will keep kids and parents happy. Most of these trails either begin or end at a local park, which is a great incentive for children who are not in strollers to get out walking with their younger siblings!
Garden of the Gods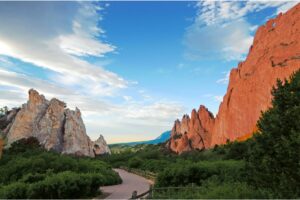 No list of walking trails in Colorado Springs would be complete with Garden of the Gods. This famous landmark draws thousands of visitors each day for good reason. The natural beauty of the red rocks against Colorado's unparalleled blue skies is a sight to behold. For the most stroller-friendly trail, stick to the Central Garden Trail, a paved 1.5-mile loop through the center of the park. 
Since this is a popular trail, we like to visit during the late afternoon / early evening. This not only gives us locals a bit of a break from tourists but also a break from the intense Colorado sun.
Cottonwood Creek Trail
Cottonwood Creek Trail is an east-west trail stretching from the Pikes Peak Greenway to Powers Blvd. The section from North Union Blvd. to Rangewood is an especially stroller-friendly trail. Much of the trail is concrete, and what is not is compacted dirt, perfect for pushing a stroller or kids on bikes. As the path follows Cottonwood Creek, you will pass behind several neighborhoods and end up at Cottonwood Creek Park. This community park is one of Colorado Springs' most loved parks, with a two-level playground, enormous fields for sports and shenanigans, and the Cottonwood Creek Community Center, run by the YMCA.
Monument Valley Trail
The trail at Monument Valley Park in downtown Colorado Springs leads families past two beautiful playgrounds (one north and one south of Uintah Street). You will have an uninterrupted view of Pikes Peak and the Front Range, and pass the beautiful grounds for Colorado College, the Fines Arts Center, and the Old North End neighborhood. 
Mesa Loop at Palmer Park
Palmer Park in central Colorado Springs may not immediately come to mind when you think of stroller friendly trails in Colorado Springs, but there is a good reason it should be. Mesa Loop, easily accessible from the Yucca Flats Trailhead, is a nice, easy, stroller-friendly path that loops around the dog park. A place where you can push the stroller and then let your dog run free for a bit? Sounds like a win-win to us!
Prospect Lake
Prospect Lake comprises the southern part of Memorial Park and is a favorite spot for locals, especially during the annual Colorado Springs balloon festival over Labor Day weekend. The view of hot air balloons rising above the Lake at daybreak or after dark during the renowned Balloon Glow is truly something to behold. But that is not the only reason to visit Prospect Lake. The walking trail around the lake is stroller friendly, concrete, and goes past several playgrounds. 
The list of stroller friendly trails in Colorado Springs doesn't stop there. Local parks like Bear Creek Regional Park, John Venezia Community Park, and many others throughout the city make Colorado Springs a family-friendly destination for much of the western United States. 
For even more family fun this summer and fall, consider the list our friends at Trail and Open Space Coalition have put together of stroller friendly trails in the Pikes Peak Region.
MER – Your Source For Cost-Effective Outdoor Gear
At MER, we believe that families are the backbone of our community. As we partner with local outdoor charities, we strive to promote causes that individuals and families can be proud to support. If you are looking for great gear, at a great price, for a great cause, visit our outdoor gear consignment store on Bott Street at the foot of Ute Pass.