If you are looking for an escape from the hustle and bustle of city life, Colorado Springs has some of the best fall hikes around to experience the autumnal beauty of nature. This city has incredible hiking opportunities, from the towering sandstone arches of Garden of the Gods to the serene trails of Cheyenne Mountain State Park.
This article will explore the best fall hikes in Colorado Springs with beautiful fall foliage. Our guide includes everything from trail difficulty, total mileage, and elevation gain to ensure you have all the information you need to plan your next adventure.
A Quick Note
Before we dive into the hikes, remember that hiking can have potential risks, such as animal encounters, weather, and terrain. Always bring a pack with food, water, layers, and other essentials to ensure a safe and enjoyable trip. For more tips on preparing for a day hike, check out our guide below on gearing up for a day hike in Colorado Springs.
The Garden of the Gods Park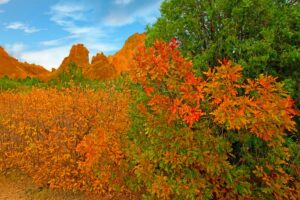 Garden of the Gods Park is easily the most famous recreational park in Colorado Springs and is number one on our list of best fall hikes. Between the towering terracotta arches and sandy trails, the Garden is perfect for a morning jog or afternoon walk. With over 21 miles of trails, there is a hiking experience for every fitness level.
The Chambers/Bretag/Palmer trail offers a challenge for adventurous hikers seeking a challenge. This trail runs for three miles, circling the entire park and weaving through rocks and rolling hills. Since fewer tourists choose this route, you can expect to see every perspective of Garden of the Gods with more privacy.
Red Rock Canyon Open Space
Red Rock Canyon Open Space offers 1,474 acres of diverse land to visitors. Intricate rock formations and canyons fill the park, and all manner of outdoor activities are welcome — hiking, climbing, cycling, horseback riding, picnicking and a bicycle-free ride area, to name a few.
The relatively easy Mesa, Greenlee and Red Rock Canyon loop is a popular 1.8-mile trek that welcomes all hikers, bikers, runners, and pets. The park is just a few minutes from downtown, making Red Rock Canyon an easy escape for locals and tourists looking for the best fall hikes.
Cheyenne Mountain State Park
Cheyenne Mountain State Park is ideal for hiking, biking, and sightseeing. With 28 miles of trails, the park has endless opportunities to explore. Talon and Sundance trail is an excellent choice for those with some hiking experience. This serene trail is just under 7 miles long and is popular with those interested in hiking, birding, and mountain biking. However, any furry friends will have to stay behind – no dogs are allowed on this trail.
The park also boasts 51 full-service campsites and is scattered with picnic tables. In addition, the park houses its archery range near Highway 115 and Pine Oaks Road and conducts many educational programs.
You Might Like: 7 Most Instagrammable Camping Spots Near Colorado Springs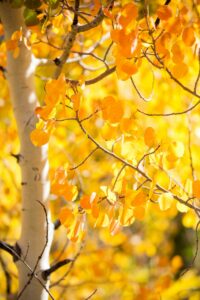 Catamount Trail
The Catamount Trail in Green Mountain Falls is a six-mile trail that takes you to South Catamount Reservoir along the Pikes Peak Highway. You may see fewer aspen trees when first starting out, but once you get to the spot aptly names the Garden of Eden, you will be treated to aspens the rest of the way. With their beautiful autumnal hues of yellow and orange, aspen trees are the quintessential Colorado tree, and any hike where you can take in their foliage instantly makes it one of the best fall hikes.
We also recommend taking the the dirt road to the South Catamount Reservoir. Not only do aspen trees line the road, once you reach the reservoir, the vista opens to a breathtaking view of Pikes Peak. Pack plenty of water, snacks, or lunch in case you get hungry, and remember your camera! Plan for the hike to last anywhere from 2-5 hours, all dependent on how often you stop to take pictures.
Mueller State Park
Mueller State Park is around a 45-minute drive from the city. The entrance fee of $7 covers your activities for the entire day. With 55 miles of trails, be sure to stop by the Visitor Center first to pick up a trail map. You can easily spend all day hiking, leaf-peeping and wildlife watching in Mueller State Park.
In our opinion, the best fall hike here is Cheesman Ranch Loop, a moderate 5.4-mile trail that weaves in and out of meadows and aspen groves on the park's north side. Pack a picnic to enjoy during – or after – exploring.
The Crags Trail
The Crags Trail is one of the best fall hikes for viewing aspens and enjoying spectacular views, and starts near the Crags Campground in Divide. First, enjoy the swath of fall foliage on Colorado Highway 67 after Divide. Once on the trail, you'll see towering boulders, glowing meadows, and patches of colorful aspen trees. The view from the 10,801-foot summit delivers excellent views of surrounding peaks and a panorama of fall foliage.
Rainbow Gulch
Rainbow Gulch is a 2.6-mile round trip, easy trail that takes about 1.5 hours. The trailhead starts in Woodland Park and leads you along a stream to view the aspen trees that lead to Rampart Reservoir.
Pikes Peak
Pikes Peak is the mountain that stands out in the backdrop of Colorado Springs, and you can summit this 14er (14,115 feet) on foot a couple of different ways. The most common way to do the Pikes Peak hike is via the Barr Trail, which is 13 miles to the summit. From there, you can take a shuttle or the Cog Railway if you want to avoid hiking the 13 miles back down – or you could make this into a two-day backpacking trip and spend the night at Barr Camp (reservations required).
Another route up Pikes Peak is via the Crags Trail. This is the shorter option to the summit, at 13.6 miles round trip (so about half as long), with less elevation gain.
Either choice makes our list of best fall hikes because of the vistas from the top of the Peak. There is something special about seeing the whole Front Range laid out in front of you from the top of America's Mountain.
Related: Gear Tips for Backpacking the Ring the Peak Trail
Colorado Springs Day Hiking Gear List
Before you hit the trails, ensure you have everything you need for a safe and enjoyable trip. Here's a list of essential gear to pack for your Colorado Springs hiking adventure: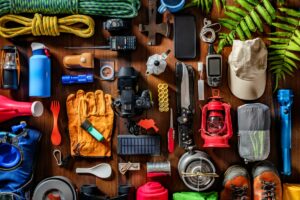 Daypack
Water bottle or hydration bladder
Snacks and lunch
Extra layers
Hat and sunglasses
Sunscreen and bug spray
First aid kit
Map and compass or GPS
Trekking poles (optional)
Camera
The Best Fall Hikes Start at MER
Colorado Springs is a hiker's paradise, especially when you are on one of the best fall hikes doing some leaf-peeping. With so many beautiful trails, you are sure to find the perfect hike for you. Colorado Springs has something for everyone, whether you're seeking a challenging trek up a 14er or a more leisurely hike along a creek.
So gear up at MER and hit the trails to experience the autumnal beauty of nature in Colorado Springs.
To see our great deals on outdoor gear and products today, please visit our store at 2222 Bott Avenue in Colorado Springs.
Lots to Do. MER Gets You Going.