Before heading out on your next great Colorado outdoor adventure this summer, read our gear tips for backpacking.
If you are looking for a backpacking trip with amazing views, the Ring the Peak Trail (also known as the Peak Rim Trail) is sure to exceed your expectations in adventure and beauty. While the entire route is not yet complete, the trail will eventually encompass a continuous route of approximately sixty-three miles looping around the Pikes Peak massif. The fifty miles currently open to hikers are already a popular backpacking destination in Southern Colorado.
Backpacking the Ring the Peak Trail for several days is a great way to enjoy the Colorado backcountry. Planning and preparing for your backpacking gear is the secret to having a good time. There are three primary considerations:
Safety: You should never comprise on this.
Weight: Remember, you have to carry your gear on your back for fifty miles.
Comfort: This is a matter of personal choice, but you should not give up safety for comfort.
Keeping these three considerations in mind, our gear tips for backpacking will ensure your next adventure is a roaring success.
Gear Tips for Backpacking: Safety
When planning your backpacking trip along the Ring the Peak Trail, here are your primary safety considerations:
Shelter: Will your tent or tarp keep you dry if it rains? Will your shelter stay up in heavy winds? Will it keep you away from small pesky flying critters in the bug season?
Clothing: When hiking, clothing layers are your best friend. Even in summer, you need to stay warm at high elevations. Reserve a dry clothing layer for camp. If you are wet from the rain or sweating, you will not only be more comfortable in dry clothes but also ward off the possibility of hypothermia.
First Aid: Accidents happen, and you should always carry a first aid kit with the basics and any personal medications you might need.
Emergency Contact: Much of the terrain on the Ring the Peak Trail is over 8,000 feet in elevation, and cell phone coverage comes and goes (and mostly goes). Therefore, you need to carry some form of emergency contact device.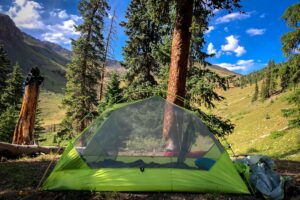 Gear Tips for Backpacking: Weight
With today's lightweight backpacking gear, you don't have to be weighed down by 35-40 pounds on your back for three or four nights of camping. It's perfectly possible to achieve a pack weight of under 30 pounds.
When considering weight, one of our biggest gear tips for backpacking is to remember that water is heavy – three liters weigh around 7 pounds. Before you leave, locate the available water sources on your route, keeping in mind that in the height of summer, some of these may be dry. If there is a guaranteed water source between one camp and another, you can resupply on the way using a travel-ready water purification system. Imagine the weight off your shoulders if you do not have to carry a three-day water supply with you!
Gear Tips for Backpacking: Comfort
Of course, comfort is subjective, but here are some things to consider:
Even if you are comfortable sleeping on a 1/4 inch of foam, this is not recommended for safety reasons. Instead, you need a sleeping pad that will insulate you from the cold seeping up from the ground. A warm sleeping pad is even more critical than your sleeping bag, especially in the shoulder seasons and winter.
Can you do without hot drinks and food? Some backpackers don't carry a stove and fuel to save weight and rely on cold prepping.
Do you absolutely need camp shoes? While you may love taking off your hiking boots and snugging your tired feet into something more comfortable at the end of the day, you face a tradeoff between comfort and weight. Many backpackers choose a lighter pack as their key to comfort.
Get Great Gear at a Great Price for a Great Cause
Let's face it, the lighter the backpacking gear, the more it seems to cost! At MER, we believe that you should not have to compromise on safety, weight or comfort to get the best price on outdoor gear. The best gear tip for backpacking is to visit our outdoor gear consignment store on Bott Street near the base of Ute Pass in Colorado Springs for a wide variety of hiking, backpacking, camping, and other equipment in near-perfect condition. And because our inventory changes daily, we always have something new for you to check out.
Every month, MER partners with local Southern Colorado charitable organizations, giving 100% of our profit (as of May 2022, this has amounted to over $600,000!) to these worthy causes. The Trails and Open Space Coalition, which sponsors the Ring the Peak Trail, is one of our favorite organizations.
MER: Truly Great Gear. Truly Great Cause.