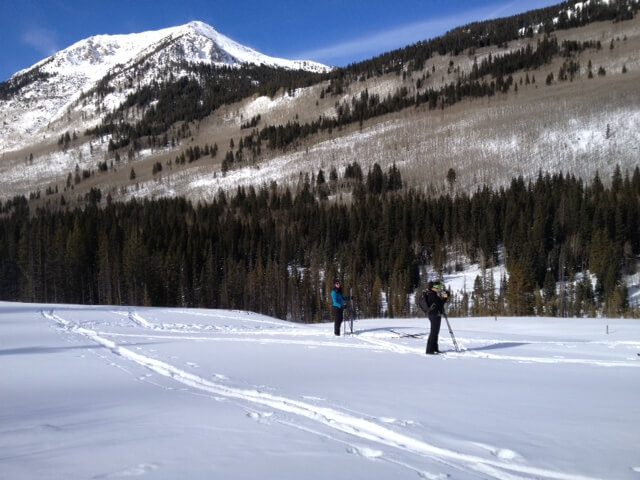 Cross Country Skiing in the Pikes Peak Region
Cross country skiing in Colorado is a great way to enjoy winter without the high costs and long lift lines at the resort. Enjoying solitude in the mountains while getting a great workout is as good as it gets! When I met my wife in 2005 she introduced me to the sport of cross country skiing. She had spent several years living in Albuquerque enjoying the Sandia Mountains on skis. I fell in love with the purity of the sport and jump at the chance every winter to spend time with her in nature. Also, the price of lift tickets continues to rise and we have no interest in paying $25 for a cheeseburger and $15 for a beer at the resorts!
Locally, in the Pikes Peak Region, good cross country ski terrain can be difficult to find. If we get a big dump of snow it is fun to find a local park such as Bear Creek. However, it usually melts quickly so we have to act fast. Popular places in the region include Mueller State Park and the Crags Campground area. Both are subject to seasonal snow conditions. There was much enthusiasm last year when Woodmoor Golf Course opened a Nordic center. Check out these articles from The Gazette and our friends at Upadowna.
Stop by the shop to learn more about how you can enjoy the sport of cross country skiing this winter.  We specialize in offering new and lightly used cross contry ski gear so that cost doesn't keep you from getting outside.  We love newcomers and are happy to have a cup of coffee and talk about all the ways to get out and enjoy this beautiful state!
Traveling outside of our region, there are amazing places within two-three hours. There are Nordic centers in Frisco and Breckenridge. Near Winter Park, YMCA of the Rockies and Devil's Thumb Ranch have amazing groomed trails. For a little more backcountry experience, there are great trails in Chaffee County in the Collegiate Peaks.
We carry a good selection of new and used cross country gear at the shop. Our new products are from Alpina including BC NNN and NNN skis and boots. Our selection of used gear is constantly flowing through the store. Purchasing Nordic skis and boots can be confusing. There are multiple types of binding systems, boot types and ski types. Here is a how-to video we created to discuss some of these differences.
Stop by the store to see the latest discounted cross country gear!
Our trained staff loves to offer free coffee and visit!