Whether you are a seasoned skiing veteran or this is your first season hitting the slopes, you likely imagine yourself zipping down the hill, wind in your hair, on your way to your first Olympic medal. What you don't imagine is just how sore you are going to be after a long day of skiing or snowboarding.
Even extremely fit individuals find that skiing and snowboarding work parts of their body that they don't use every day, and may not have realized even existed. They find out after a day on the slopes that there is a distinct difference between "fit" and "ski fit."
So, as you pack up your skis, poles, and other ski gear, here are seven things to include to ensure you can enjoy another day in the powder instead of thinking, why am I doing this to myself?
1. Stay Hydrated
Anything else you can do for ski recovery will be a waste of time if you don't keep yourself hydrated both during and after your slope time. At high altitudes, you lose water from your body more quickly than at sea level. If you are also partaking in strenuous activity, like skiing or snowboarding, you will dehydrate even faster. Drinking liquids, especially electrolyte-heavy drinks, throughout the day and directly after that great ski run will ensure that you don't spend the evening feeling wiped out.
And, while we all may love a nice cold beer or a hot toddy after a day on the slopes, remember that drinking alcohol is not a solution for dehydration!
2. Keep Moving
You might well be tempted to simply fall into a comfortable, warm bed after a long day of skiing. However, taking a short walk will help ease muscle pain, increase blood flow and prevent your muscles from stiffening up.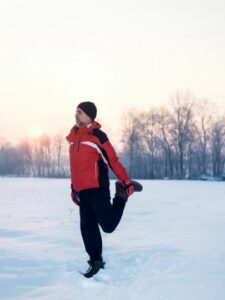 3. Stretch
Stretching is one of the best things you can do to recover from a long day on the slopes. The best stretching techniques for skiing help tight muscles return to their original position by removing tension and improving blood circulation, allowing muscles to recover and repair. Focus on stretching leg muscles, glutes, and lower back.
4. Massage
Get a ski recovery massage that concentrates on the soft tissues surrounding the most worked parts of your body – your lower back and knee area. Signing up to have your body tended to with a sports massage will not only help you relax but will also increase your recovery rate.
Related: Learn To Ski This Season With These Tips
5. Warm Up
Warming up your achy muscles with a hot bath or shower can work wonders. Ideally, soak in a tub with added Epsom salts, which are proven to relieve muscle tension. Add in some lavender-scented essential oils, and your soaking experience will go to the next level of relaxation.
Of course, if you are heading to a ski resort after your day on the slopes, you will most likely have access to a hot tub, jacuzzi, or sauna. Don't regard these as just après ski social experiences. They are actually important elements of post-skiing recovery.
6. Ice Bath
Of all the ski recovery techniques, this is probably the best to ensure muscles recover overnight. Unfortunately, it's probably the one you'll find most unappealing!
All you really need is a bath at normal cold-tap temperature (46.5°F – 50°F). The cold will slow down inflammation and help the recovery process. Do this is in two sessions of five minutes each with a warm-up in between.
7. Use Ice Packs and Heat Packs
Ice helps reduce inflammation while heat relaxes the muscles. Alternating the two temperatures can improve your recovery time. If you are new to the idea of temperature contrast therapy, check out this extremely helpful article from The Cleveland Clinic to get you started.
Bonus Tip: Use The Right Ski Gear!
Of course, while the above tips will help you recover from a long day of skiing, having the right gear is also vital to staying injury-free. And for that, there is no better place to go than Mountain Equipment Recyclers (MER). Our staff consists of avid skiers and snowboarders, so we know how to advise you on the best equipment for your skiing or snowboarding adventure. We carry a wide range of high-quality, name-brand winter sports products at greatly discounted rates. Stop by our store to see what we have in stock today.
More From Our Outdoor Essentials Blog:
Guide To The Best Cross Country Skiing in Colorado
Best Winter Camping Destinations Near Colorado Springs