Are you interested in backpacking this fall in Colorado but don't know where to start, or are you afraid you will fall victim to common mistakes new backpackers make? We have you covered!
As a new backpacker in Colorado, you can experience a strong connection with nature, gorgeous views, and a feeling of internal contentment – when everything is going well!
However, when backpacking is going poorly, you may feel that you want to return to city life and never return! Wet clothing on a cold and windy day, painful blisters, high-altitude sickness, and a heavy pack – these beginner mistakes that can make your first ventures painful – are easily avoidable. How?!
How to Avoid Beginner Backpacking Mistakes
You can learn how to have a more pleasant backpacking experience. Here are five mistakes new backpackers make that you can avoid:
Loading Up Your Pack With Too Many Fears
Heading out into the Colorado wilderness for the first few times may fill you with a mountain of "what-if" scenarios, which can lead to overpacking. Here are a few things you might be afraid of and the common results of these fears:
Being cold – you pack too many layers.
Being dirty – you pack soap and a washbowl (not needed!).
Being uncomfortable – you haul along a difficult-to-pack and heavy camp chair.
Being hungry – you pack food that you won't eat.
The dark – you throw in a large flashlight.
Bears – you pack a huge camping knife.
While the above fears are not unreasonable, giving into the infinite list of "what-ifs" are common mistakes new backpackers make that result in sore shoulders, aching feet, and exhaustion on the trail.
Letting Your Essentials Become Wet
Keeping your hiking clothes and sleeping gear dry are your lifelines on Colorado trails. Even during summer, overnight lows in mountainous terrain can drop precipitously. Pack your critical camp clothes and sleeping bag in extra waterproof plastic bags to ensure your vital gear stays dry.
Pro Tip: Change back into still-damp clothes in the morning before leaving camp. Yes, this may not be the most comfortable when you start out, but your body heat will dry the clothes when you start walking. While leaving camp in dry clothes may make you feel cozy, the result may be having no dry clothes at night when you need them.
Wearing Untested New Backpacking Boots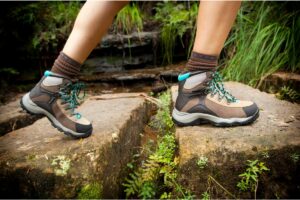 Walking around your neighborhood in new backpacking boots to break them in is a great idea, but remember that neighborhood walks are not equivalent to hiking up a steep Colorado trail with a full backpack. You may find that your new boots will start rubbing and creating sore spots leading to blisters.
To avoid sore feet and blisters, ensure your footwear is not too small – feet swell after long days of hiking. Many backpackers find that shorter day hikes are a valuable tool to break in new boots before heading out on a longer, overnight trek.
Pro Tip: If your feet need heavier backpacking boots, ignore those telling you trail runners are the way to go. Your feet equals your decision.
Misjudging Hydration Needs
Staying well hydrated is a fundamental lesson for all backpackers. How much water you need will vary based on your health concerns, outside temperatures (during the day and at night), the altitude at which you are backpacking, and whether any reliable water sources are along your route.
One of the most common mistakes new backpackers make is thinking they need to carry gallons of water in their packs. You do not want to be in the wilderness with an inadequate water supply, but with proper preparation, you can stay hydrated and prevent fatigue from a too-heavy backpack.
Pro Tip: Before you set out, check your route for reliable water sources along the way. Refilling your water bottle at a nearby stream (using a filtration system) can lighten your pack significantly.
There are many other ways to carry and treat water for your backpacking adventure, so do your research, and feel free to use the staff at MER to answer questions and give advice! As outdoor enthusiasts ourselves, we have a few tricks up our sleeves to make things easier for newbies.
Having No Emergency Plan
The biggest mistake new backpackers make in Colorado is not having an emergency plan in place before setting out.
The golden rule for backpacking is to ALWAYS tell someone where you're going and when you expect to be back.
Your contact needs to know when they should begin worrying and what to do. While less than ideal, backpacking trips that involve rolling an ankle, running out of water, or getting lost on the trail will not feel quite as serious if you know someone is out looking for you.
Pro Tip: Carrying a satellite beacon for a real emergency can give you additional peace of mind, since you can signal your exact location for rescue.
Final Mistake New Backpackers Make – Overpaying for Gear
The most easily avoidable mistakes new backpackers make is overspending on hiking and camping equipment. There is no need to spend hundreds (or even thousands!) of dollars to get outfitted for backpacking when Mountain Equipment Recyclers (MER) is around the corner.
MER is Southern Colorado's go-to gear consignment store for all your backpacking adventures. We have a great selection of affordable used backpacking gear and tech – if you need it for your outdoor adventure, we likely have it!
Don't make the mistake of overspending on outdoor gear. Stop by our store on Bott Ave., off Highway 24, today for the best gear at the best prices.