Proper preparation is essential anytime you venture into the great Colorado outdoors, and perhaps nothing is more important than choosing the right hiking clothing both to wear and to carry (it's not just about what's on your body).  Your hiking clothes will vary according to:
Type of hike you are taking;

Total miles you plan to hike;

Time of year;

Terrain;

Your final destination – your climate-controlled exit vehicle may be many miles away.
Layers Are Your Best Hiking Buddies
In hiking clothing terms, an effective layering system allows your perspiration to pass easily outward through each layer and evaporate on the surface of the exterior layer. In colder weather, you need more substantial layers to increase insulation and reduce heat loss. Conversely, in warmer temps, lighter layers are more suitable. An effective layering system can be broken down into three parts: a base layer, a mid-layer, and a shell layer.
The Base Layer
The base layer is right next to your body and plays the important role of moisture manager. This garment is tasked with transporting your sweat away from your skin to other layers. This process helps keep you dry and reduces the chances of hypothermia in colder conditions by ensuring that your perspiration isn't allowed to turn cold and lower your core temperature. Good base layer fabrics include merino wool, branded synthetics, and polyester-polypropylene blends. And, when it comes to appropriate next-to-the-skin hiking fabrics, don't forget to include your underwear.
The Mid-Layer
A mid-layer works to keep you warm and insulated. This layer is designed to trap your body heat close to your skin and shield you from the surrounding air while allowing moisture vapor to wick through to the layer's exterior surface. Some examples of mid-layer hiking clothes include fleece or down jackets, sweaters, and vests.
The Shell Layer
An outer shell shields you from the elements and keeps your inner layers dry. An efficient shell provides a good balance between water resistance and breathability. In the case of a rain jacket, you want one that will let you sweat without feeling that you're inside a plastic bag.
Need inspiration on where to hike? Check out Great Hikes Near Colorado Springs.
Your Hiking Clothing Should Not Include Cotton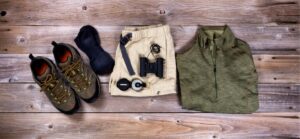 It may surprise you that when choosing clothes to hike in, cotton is NOT the "fabric of our lives." Notoriously ineffective at wicking and drying, cotton really excels at soaking up sweat, staying wet, and chilling you. When conditions turn cool, cotton next to your skin is a recipe for hypothermia. And, unless you enjoy having blisters (does anyone?), avoid cotton socks.
Hiking Clothing for Colorado – Extras
Some extra hiking clothing items should be considered depending on the season. 
Sunhat

Bandana or buff

Warm hat

Balaclava

Neck Muffler

Gloves (and spares in winter). Mittens will keep your hands warmer.
Choose comfort over fashion. Fortunately, with the many options available in today's world of fashionable outdoor clothing and gear,  there is no reason to sacrifice comfort for looking good on the trail!
The Takeaway
Looking for the best hiking clothing for your Colorado hiking adventures without spending a fortune? Look no further than Mountain Equipment Recyclers (MER). We can outfit you for your layering system at a minimal cost. We always have a large selection of hiking clothes – wicking base layers, non-cotton T-shirts, long-sleeved shirts, fleece jackets, puffy jackets, rain jackets, rain pants, hiking socks, gaiters, and all the gear to go along with them.
Stop by our store in Colorado Springs West Side to see what we have in stock today! 
Related Articles From Our Outdoor Essentials Blog:
Read This Before Buying A Jacket For Backpacking In Colorado
Environmental Benefits Of Buying Used Outdoor Gear