Chances are that, whether you're an experienced Colorado camper or a newbie, you could use a few camping hacks to make your next adventure unforgettable.
With the help of MER's expert outdoor enthusiasts, we will take your next camping trip up a notch. So gear up and get ready to learn some innovative and fun hacks from the experts themselves!
Camping Hacks For Packing a Lighter Bag
Have you ever tried carrying your child's back-pack into school? Then you likely know how heavy a backpack can get with only a few items inside.
Now imagine carrying that pack up a steep hiking trail with the sun beating down on you. Not appealing? Here are three camping hacks that will help take a load off your shoulders (literally!).
Not All Packs are Created Equal
For camping and backpacking, you need a pack that is made for the outdoors. School or fashion bags may look trendy, but investing in a backpack that is made for outdoor adventuring is one of the best camping hacks we have.
Packs that are specifically for the outdoors proportionally distribute weight and feature weather resistant materials that will stand up to whatever Colorado's backcountry throws at you.
You Might Like: 5 Mistakes New Backpackers Make in Colorado
Use Your Pack as Your Pillow
There is nothing worse than waking up to a beautiful day with an aching neck. Yet, you may decide to forego comfort because of the room that a pillow takes up in your bag. The easy solution to this dilemma is using your pack as your pillow by stuffing your jacket and extra clothes inside.
Make-Shift Lantern
Many reusable water bottles have wide-mouths that can easily fit a headlamp or flashlight (Nalgene bottles especially). So, instead of bringing additional lights and batteries with you, place your headlamp into that empty bottle – and voila, instant lantern for your tent.
Duct Tape and Paracord Can Fix Anything
Okay, that might be a slight exaggeration, but there is certainly a good argument to be made for the statement when it comes to camping hacks. Duct tape comes in handy to quickly mend a hole in your jacket, pack or tent, and paracord is infinitely usable as a clothes line, shoelace replacement, or to attach items to your pack with. However, carrying these two items may take up valuable space and add to the weight of your pack (which, as we already covered, should be kept as light as possible).
Here are two hacks for bringing these two essentials along: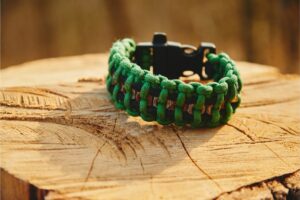 Duct Tape
Instead of carrying an entire roll of duct tape with you, wrap several layers around part of your trekking poles or water bottle. Unwinding the needed amount is easy-peasy, and you can reattach unused portions to the poles or bottle so as to leave no trace when you break camp.
Paracord
Carrying several lengths of paracord does not have to be a burden when you work them into a  bracelet, anklet, or necklace. Don't feel especially crafty? This tutorial from Paracord Planet is an easy place to start.
Related: Guide for Choosing Hiking Clothing for Colorado
Bear This in Mind
According to Colorado Parks and Wildlife, bear-proofing your campsite is vital to a successful camping experience. At MER, we have several solutions for bear canisters (a.k.a. bear vaults) and are happy to help you select the right one for your trip.
However, our camping hacks for bear canisters has less to do with keeping bears out and more to do with getting you in.
Apply Reflective Tape or Decals
Looking for your bear proof food canister in the pre-dawn hours can be a pain. But this quickly becomes a non-issue when you apply reflective tape or decals to the outside.
While you have that reflective tape out, apply a strip to your headlamp so you don't have to scramble around searching for it in the dark.
Maximize Space
The easiest way to maximize the space in your bear canister (and thus your pack) is to take items out of their outside wrapping. This does not mean removing your energy bars from the wrapper so they become a sticky mess. Rather, shed any of the boxes, bags or other packaging that take up space and are awkward to pack.
And as an added bonus, all the trash you can leave at home reduces the chances of accidentally leaving something behind, enabling you to leave no trace after your camping trip is over.
Bonus Camping Hack: Don't Overpay for Your Gear!
Hopefully these camping hacks have given you some new ideas to make the great outdoors more accessible for you, your family and your friends this summer. Whether you plan to camp, backpack, hike, climb, kayak or bike your way through the Colorado mountains, MER has you covered. Our outdoor gear consignment shop on Bott Avenue in Colorado Springs has a rotating selection of name-brand outdoor equipment at a fraction of their retail price.
Sound too good to be true? Stop in to see for yourself.
Lots to do. MER gets you going!