Colorado offers what is arguably some of the best winter camping destinations in the United States.  In years past, the camping season in Colorado's backcountry would be considered prime from Memorial Day (the last Monday in May) through Labor Day (the first Monday in September), when the temperatures are warm during the day and moderate at night.  Sometime in the fall, however, whiteness will descend on the formerly wildflower-speckled meadows and trout-filled alpine lakes you covet in summer, and most campers and backpackers mourn the loss of camping season. But does that have to be the case? 
Not necessarily. The cooler temperatures of fall and winter in Southern Colorado mean that lovers of backpacking and camping have a choice. Either hibernate indoors like a bear until the high country reemerges in June, or put on warmer boots and head to lower elevations with less snow to experience winter camping. Or, if you are more intrepid, you can strap on your snowshoes or cross country skis and keep exploring. However you choose to enjoy the outdoors in the winter, Colorado Springs has many winter camping destinations within an easy distance of the City.
Winter Camping Destinations Within Reach Of Colorado Springs
Winter camping can be a truly enchanting and unforgettable experience. You can find solitude, natural stillness, and captivating views. Braving the cold weather will warm your soul with a certain comfort and coziness. Here are a few of our favorite winter camping destinations that you should consider:
Pike National Forest
An easy drive up Ute Pass (US Hwy. 24) the vast Pike National Forest offers dispersed camping almost anywhere within its borders. You can plan everything from a one-night jaunt with city lights twinkling in the distance or go for a multi-day winter backpacking trip or a basecamp adventure. 
Cheyenne Mountain State Park
Even closer to home at only a 15-minute drive away, Cheyenne Mountain State Park is home to roughly 20 miles of trails. If you are searching for a winter camping destination that offers peace and quiet while being extremely accessible, try Cheyenne Mountain via the Talon and Dixon Trail, a 16-mile journey that includes a plane wreck. The campground is open all year round, but winter reservations are limited to the available loop.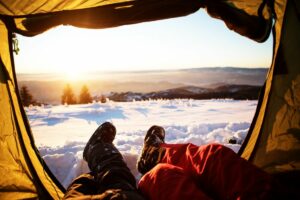 Mueller State Park
About a 45-minute drive away, Mueller State Park is open all year round and offers over forty miles of scenic trails, many providing stunning views of nearby Pikes Peak and glimpses of historic cabins tucked into the hillsides. After mid-October, winter camping sites are limited and made available on a first-come, first-served basis.
You Might Like: Guide To The Best Cross Country Skiing In Colorado
Buffalo Peaks Wilderness
About two hours away, you can find the perfect one-night winter camping destination on a great 11-mile loop trail on Weston Pass. Compared to the surrounding areas, even in the summer, fewer people visit this secluded region of broad meadows and rolling hills dominated by the twin cones of the Buffalo Peaks. The best campsites are in the trees around Buffalo Meadows, the highest point of the hike.
Lost Creek Wilderness
Between Colorado Springs and Denver, near Fairplay and Bailey, a large wilderness of fascinating rock formations is tucked into the foothills. Ninety miles of driving reward you with 130 miles of trails combined with comparatively low elevation, providing ample scope for multi-day winter backpacking trips. 
Great Sand Dunes National Park
A popular summer camping spot, you may have overlooked the Great Sand Dunes as a winter camping destination. This area of the high country tends to be a little warmer than the other winter camping destinations on our list. Hike on the dunes or snowshoe or ski the nearby mountains. The campground is usually packed in summer, but you can have your pick of sites in winter and even take advantage of a winterized restroom. 
Winter Camping: Final Thoughts
Whether your adventurous spirit yearns for eye-candy snow-covered views or the tranquility of the backcountry in the off-season, Colorado's trails are calling you this winter. Think about it – no bugs, lightning strikes, bears, or crowds! So throw on some layers, pack up your winter gear and head out. 
Where To Outfit Yourself For These Winter Camping Destinations
While winter camping might seem too intense for some, being prepared with the right gear will set you up for a great Colorado adventure. Mountain Equipment Recyclers (MER) has all the winter gear you need. We are a used outdoor gear consignment store whose mission is to provide outdoor gear for a great cause. Visit us at our conveniently located store in Colorado Springs for winter tents, sleeping bags, warm clothing, winter boots, snowshoes, cross country skis, and more.
More From Our Outdoor Gear Essentials Blog:
Read This Before Buying A Jacket For Backpacking In Colorado
Environmental Benefits Of Buying Used Outdoor Gear