Originally Posted: May 24, 2021 | Updated: May 22, 2023
As outdoor enthusiasts ourselves, our staff at MER knows from experience that there is no better way to "get away from it all" than by going dispersed camping in the quiet beauty of the Colorado mountains.
Also known as wilderness or backcountry camping, this is camping outside designated campgrounds without the typical amenities like toilets, established fire pits, picnic tables, etc. But what you sacrifice in convenience, you make up for in peace and quiet, with spectacular views to inspire even the harshest skeptic.
Why is Dispersed Camping So Popular with Coloradans?
After a long winter spent indoors, Coloradans love to get outside, enjoying outdoor recreation such as hiking, backpacking, climbing, fishing, canoeing, and kayaking. Backcountry camping can give you an entirely new way to experience and appreciate the outdoors, with freedom and privacy to commune with nature.
As an added benefit, you do not generally need a permit for wilderness camping (more on this below), and you do not have to reserve your spot months before a holiday weekend. Because the Centennial State's parks and eleven national forests cover millions of acres, there are literally hundreds of places to camp. You can go somewhere new every weekend!
Know Where You Can (and Cannot) Camp
Colorado is home to a plethora of locations for dispersed camping, but there are certain areas where camping is restricted. If you are curious about where you can or cannot camp, try looking up areas on the interactive map of Colorado provided by the United States Department of Agriculture (USDA). By simply clicking on the area you are interested in visiting, you get recommendations of where to camp and links to district offices where you can find helpful park rangers.
Additionally, some areas have unique rules and permit requirements for wilderness camping. For instance, Rocky Mountain National Park is one area that does require a camping permit and a fee, and the Arkansas River Headwaters Recreation Area, or AHRA, has specific rules that campers must follow.
You Might Like: 7 Camping Hacks From MER Experts
Four Spots MER Staff Love for Dispersed Camping
With 11 national forests throughout Colorado, no matter where you camp you can't go wrong. But a few of our favorite forests are:
Pike National Forest
Besides the immense beauty of the Pike National Forest, we love camping here because of the close proximity to Colorado Springs. When we need a quick weekend away to relax and commune with nature, this is the place we choose.
At over 1 million acres, the forest is home to a variety of wildlife. There are numerous designated dispersed camping sites throughout the forest and plenty of hiking trails, fishing spots, and other outdoor activities.
White River National Forest
White River is over 2.3 million acres and is home to some of Colorado's most beautiful scenery, including the iconic views of Maroon Bells and Independence Pass. There is good reason why Coloradans and tourists alike flock here every summer for camping, hiking, fishing, biking, and observing nature.
Roosevelt National Forest
Roosevelt National Forest is a great place to go dispersed camping in Colorado. With over 800,000 acres of forest to explore, there are plenty of opportunities for solitude and adventure. The forest has numerous camping sites, many accessible by car. There are also plenty of hiking trails, fishing spots, and other outdoor activities.
San Juan National Forest
Located in the southwest corner of Colorado, lush valleys and spectacular views make the San Juan National Forest another of our favorite spots for dispersed camping. At over 1.8 million acres, the forest is home to some of the highest alpine peaks in the state. If you have yet to explore this area, you are in for a real treat!
Camping and Outdoor Stewardship
We could not have an article about dispersed camping without also providing guidance on how to be a steward of Colorado's public land. This means following the seven leave no trace principles, including: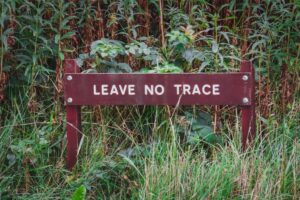 Hike and camp on trodden ground only and use existing fire rings rather than making new ones.
Don't camp at or close to trailheads.
Set up your backcountry camping spot at least 100 feet from a water source.
If you pack it in, pack it out. Take all of your trash out with you.
Bury human waste at least six inches deep in a cat hole, and pack out your toilet paper in doubled-up plastic bags. (Buried toilet paper can be disturbed by critters or the weather.)
Leave nature where it is. Collecting wildflowers, plant specimens, birds' eggs, etc., might seem like a harmless souvenir to you, but doing so can have a dramatic effect on the ecosystem of your campsite.
Related: 5 Mistakes New Backpackers Make in Colorado
A Word About Campfires
For many of us, whether sitting around talking, enjoying a beer, making s'mores or listening to a friend play acoustic guitar, camping is synonymous with campfires. But with Colorado's arid climate comes an increased risk for forest fires. If you decide to include a campfire in your dispersed camping experience, follow these tips:
Before leaving home, check for local fire restrictions in your camping area, and follow the rules.
Aim for small fires. You don't need an immense conflagration to stay warm or dry.
Only use downed wood. Never chop down small branches, saplings, or small trees. These won't burn well and are a valuable part of the ecosystem.
Always make sure you completely extinguish your campfire before breaking camp. Dowse all embers (glowing or not) with water and NEVER leave a fire burning unattended.
As Smokey the Bear says, only you can prevent wildfires!
MER – Outdoor Gear Consignment Store For All Your Dispersed Camping Needs
Are you itching for a new adventure in the Colorado wilderness? Then give dispersed camping a try this summer. And before you go, stop by our outdoor gear consignment store on the Westside of Colorado Springs; we can supply you with all the gear you need to fulfill your outdoor dreams.