The first Outdoor Retailer since the Winter Market and Snow Show joined forces proved to be an even bigger event than could be imagined.  The combined show featured tons of new brands and lots of familiar favorites.  Mountain Equipment Recyclers waded through the Colorado Convention Center to find some of the coolest, under the radar items the show had to offer.
The Phantom Pull-On
Rab
At just 90g, this rain and wind jacket is impossibly light and packs down to virtually nothing.  The Phantom Pull-On's only structure comes from a brimmed hood.  It is super thin–peep the pics.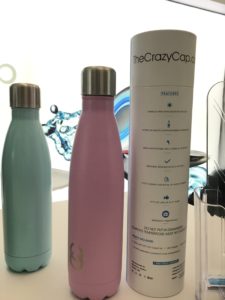 The Crazy Cap
The Crazy Cap
I can't be the only one who hates when their favorite water bottle gets stinky.  Even with the best cleaning habits things can get out of hand very quickly. Crazy Cap is a self-cleaning water bottle with the tech hidden in the water bottle's cap.
Even better, this cap sterilizes your water using a rechargeable UV light filter that is suitable for light use and heavy-duty filtering. The catch: it doesn't water with cloudy water or water filled with debris. But we are guessing at a 69.99 price point, users won't take it on their multi-day backpacking trips.
Featherlite Puffy Blanket
Rumpl
Last year, Rumpl made a super-impressive showing with their down blankets.  If you are a fan of the blanket set-up versus a sleeping bag, you'll be a fan of their items.  I'm into lightweight all-season packing personally, so I was super stoked to see them return with their promised lightweight blanket. Made from hydrophobic 800-fill goose down this blanket weighs in at less than ONE POUND.
Snowfoot,The Alpine Snowshoe
Snowfoot
You've never seen anything like this.  Snowfoot is a honeycomb-shaped snowshoe with attached crampons that make maneuvering in the backcountry that much easier.  The design also makes it one size fits most–no more worries about weight versus height versus length.