Whether you're a seasoned trekker or an ambitious new hiker, you may have "climb a 14er" on your bucket list. Why? These peaks provide access to some of the most beautiful and remote areas in Colorado while also physically and mentally challenging you. 
Reaching the top of a Colorado 14er is no walk in the park, and preparing for such a hike can seem daunting. But the reward of standing on the summit is definitely worth the effort. 
What Is a Colorado 14er?
A 14er is a mountain whose peak rises over 14,000 feet above sea level. There are over 90 such peaks in the US, and Colorado is home to a little over half of them. Locally these peaks are known collectively as "the 14ers". They include mountains in the Front Range, Sawatch Range, Elk Mountains, and more.
What Gear to Pack for Climbing a 14er 
While you can reach the summit of some Colorado fourteen-footers in less than one full day, you still need the right gear to hike them responsibly and safely because these treks are not like hiking at more stable lower elevations. The weather can change rapidly on a 14er near the summit, so layering your clothing is crucial to your safety and comfort. Below are the basics of what's needed to climb a 14er in Colorado.
Hiking Clothing
Layers are your best friends, and whatever you do, avoid anything made of cotton. While you climb a 14er, you will sweat, and cotton will get wet, stay wet, and chill you. Despite the reputation of being "the fabric of our lives," cotton can actually take the heat out of your body and, in extreme circumstances, can result in hypothermia! Here's an essential list of hiking clothing to invest in before you climb a 14er. 
Quick-dry short sleeve and long sleeve tops.

Synthetic hiking pants – ones that zip off into shorts will work especially well at lower elevations. 

Hiking boots with good tread and ankle support. Furthermore, they should be broken in, don't make the mistake of wearing hiking boots for the first time on an already strenuous hike.

Warm mid-layer or insulated

jacket for backpacking

. 

Rain jacket and rain pants. 

Hat and gloves – the trailhead may boast summer weather, but at 14,000 feet, you may appreciate them.
Hiking Gear
You'll be hiking for several hours while experiencing a significant gain in elevation, so you need to be prepared for any eventuality. Here's a checklist to help you: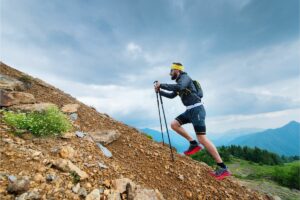 A durable and

comfortable hiking backpack

that has room for all your gear.

Basic first aid kit.

Swiss army knife or Leatherman.

Sunscreen – the sun will be more intense the higher you go.

Trekking poles

(optional, but your knees will thank you, especially on the way down).

A satellite phone for emergencies, ideally one equipped with GPS capabilities.
Food and Water
Experienced hikers know that staying hydrated is essential for a successful mountain trek. Before heading out, check out your route for water sources on the way up. Access to freshwater streams and lakes can cut down on your weight – water is heavy! However, you will need to carry a portable filtration system to ensure stream or lake water is safe to drink. If there are no convenient water sources, carry a minimum of three liters per person, just shy of one gallon each. 
Go for easy-to-eat snacks like trail mix and bars to keep your energy up as you ascend, and pack a tasty lunch to enjoy at the summit while you take in the phenomenal views.
MER Can Help You Get to the Top of Your 14er
If you plan to tackle a Colorado fourteen-footer this summer, you don't have to spend a fortune on the right gear. Mountain Equipment Recyclers (MER) is Colorado Springs' best destination for used outdoor gear. Our wide selection of hiking clothing and gear can outfit you to scale mountains, whether you climb a 14er for the first time or the ninetieth! (MER) is conveniently located in Colorado Springs near Hwy 24, just a short drive from Colorado's most famous 14er, Pikes Peak. Drop by to see what we have in stock today!