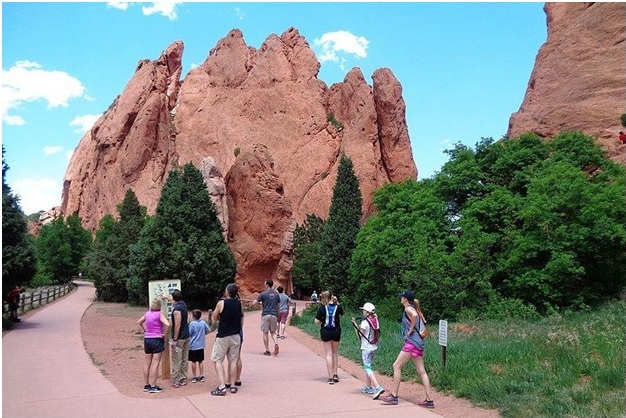 The Best Ways to Enjoy Colorado Springs With Kids
Whether you're a kid or a kid-at-heart, the best way to enjoy Colorado Springs is on foot and outdoors. Colorado's second-largest city offers your family countless memorable outings with plenty of fun photo opportunities.
The best outdoor destinations require good walking shoes and comfortable attire. So lace up your hiking boots, and let's go.
Cave Of the Winds
Kids and caves go together like Huck Finn and Tom Sawyer. But this is more than a cave tour. You'll find above-ground activities for families to enjoy at a three-story obstacle course called the Wind Walker Challenge Course. Kids can climb and clamber, take zipline rides with you, and enjoy the views atop the scenic Williams Canyon.
When you're ready to head underground, grab a jacket or sweatshirt because the temperature in the caves is 54 degrees, even on the hottest summer day. These natural caves are well lit and provide an interesting geology lesson millions of years in the making.
Cheyenne Mountain Zoo
Arguably one of the best zoos in America, where you'll have the chance to feed giraffes and look in the large, predatory golden eyes of mountain lions. Be prepared to do some hill walking in this mountainside attraction.
Garden of the Gods
Perhaps the most picturesque place you can visit while in Colorado Springs is the Garden of the Gods. Whether on foot or cruising through by car, the park is free and open to the public.
With 21 miles of trails to explore in the park, ranging from easy to moderate, it's a spectacular photo op for your family. Choose a self-guided hike or sign up for a guided tour. Bike and horse rentals are available, and pets are welcome.
Glen Eyrie Castle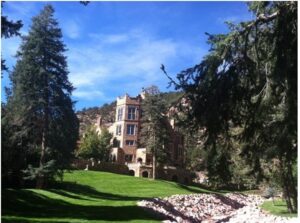 For a fairy-tale experience, book a night at the Glen Eyrie Castle, home of Colorado Springs founder and celebrated Civil War General William Jackson Palmer. Enjoy the sports green or hike one of the 16 trails on the property. An overnight stay includes a tour of the castle grounds, breakfast, and souvenirs.
Manitou Cliff Dwellings
Take a self-guided tour through ancient cliff dwellings built by the Anasazi people in southwestern Colorado. Back in 1904, part of the site originally located in McElmo Canyon was moved to Manitou Springs. Concerns about looters damaging the site prompted the move for preservation and education. Today a small museum includes artifacts from indigenous communities. A gift shop features a collection of items including Colorado-made goods.
Manitou Incline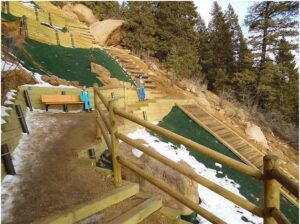 If you enjoy a good outdoor fitness challenge, you'll find no tougher cardio workout than the popular Manitou Incline. Once a railroad track, the stair walk is made of 2,744 railroad ties rising 2,000 feet in elevation, spanning a mile in length.
The view from the top, if you make it, is impressive! For the return trip, the beautiful Barr Trail gives you a softer path to the parking lot.
Pikes Peak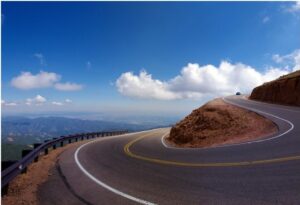 Perhaps the most famous mountain peak in North America is the landmark you can't help but admire from just about anywhere in Colorado Springs. You can drive the 19-mile scenic paved toll road to the summit of Pikes Peak and enjoy views of lakes and wildlife along the way.
Another popular way to travel to the summit is by cog rail, which opens on May 1, 2021, following a major renovation. The new Pikes Peak Visitor Center at the top offers sheltered views along with retail and dining options. The high-altitude donuts are a must-have part of the visit.
Seven Falls
Just five minutes from the Broadmoor Hotel, a series of seven waterfalls cascade down a box canyon of towering rock. You'll climb 224 steps to the trails and stream banks that feed Seven Falls.
Something about the sight and sound of falling snowmelt is proof that Mother Nature is at work every moment. Observing a natural formation as special as these falls is a privilege and reminder to slow down and appreciate the beauty that no human could ever replicate.
Helpful Tips
Running around at an elevation well above a mile high in an alpine desert climate can be physically demanding. Drink plenty of water throughout the day to stay hydrated, and dress in layers to adapt to Colorado's changing weather conditions.
Respect your surroundings. Pick up trash and recycle as much as possible. That includes buying gently used outdoor gear and donating or consigning that gear when you're finished with it. It could make packing for the trip home a lot easier.
Let Mountain Equipment Recyclers help you get what you need by buying used outdoor gear and minimizing your environmental impact at the same time.
Kristen Kidd is a published author and TV news producer at one of Colorado's network stations. She is also the mother of two avid hikers who still have trouble keeping up with their mom.