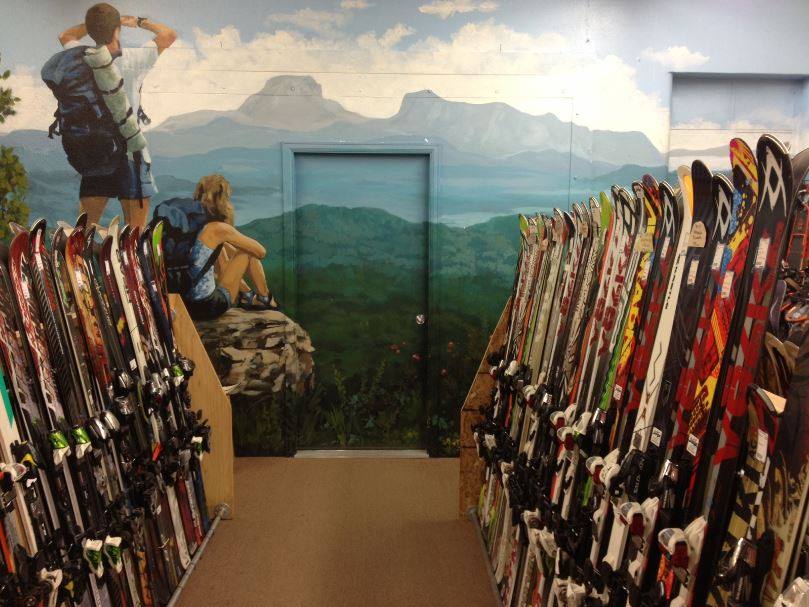 Getting into snowboarding might seem daunting, and that's why I want to provide some insight to make the process a bit easier. Below, I've put together a snowboard buying guide based on three very important aspects of the sport: knowing your riding style, knowing your board size and knowing your board stance. Understanding these factors when buying a board can make all the difference on the mountain.
Riding Styles
The first step is to determine the style of riding that you prefer, or think you'll prefer if you're a first timer. Most snowboards are designed for a particular style of terrain with labels that can vary across the industry. I will describe a few of the more agreed upon categories:
Powder Specific: these boards are designed for fresh powder days and aren't particularly great on groomers. These are directional boards with typically a rocker feature, a greater set-back stance, and wider nose to produce more floatation over the fluffy stuff.
Freeride: closely related to powder boards, these boards are ready for the trees and off-trail discoveries but can tolerate groomers as well. Usually designed as a directional board with a wider nose, free-ride boards are stiff and vary between the different rocker-camber profiles.
All-mountain: perfect for the beginner who isn't sure what style of riding they will enjoy most. Generally, these boards are dual-directional with a smaller set-back stance. Their stiffness is somewhere in the middle with a cambered or flat profile. These do well in all snow conditions and terrain.
Freestyle: built for park rats that spend all day riding rails and boxes (jibbing), hitting the half-pipe, and landing gnarly jumps. These boards have a soft flex and true twin shape designed to ride switch.
Board Size (It Matters)
The next thing to consider is sizing the length and width of the board. Having the right size board can mean the difference between a disastrous and beautiful day on the mountain. The length of the board is based on the height and weight of its rider. Below is a sizing chart for reference which will give you a suggested length.
Snowboard Sizing Charts
for Youth, Men and Women.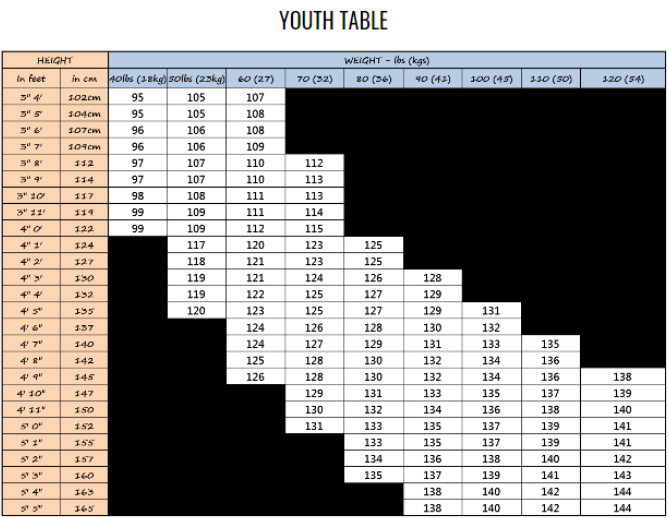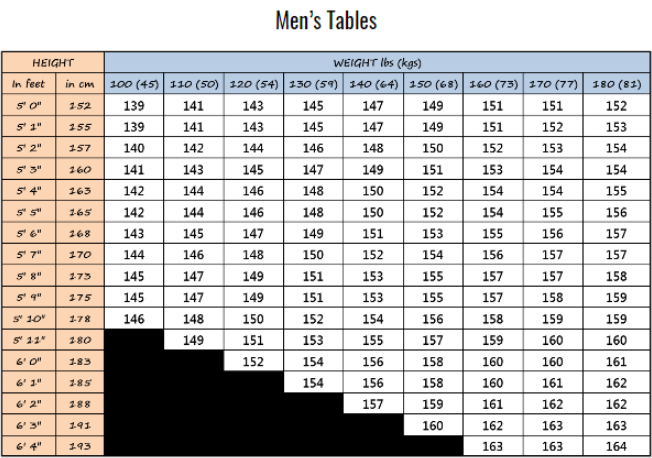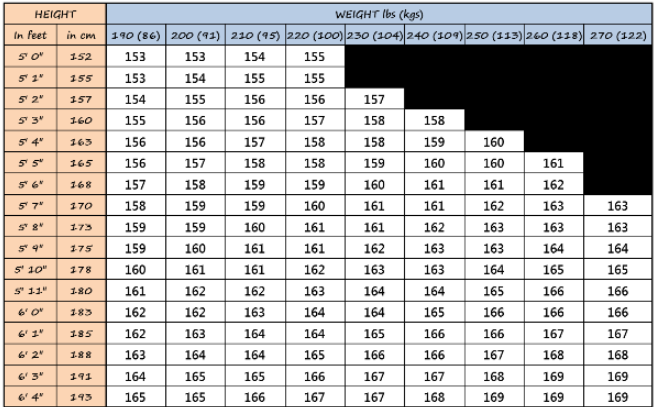 Women's Tables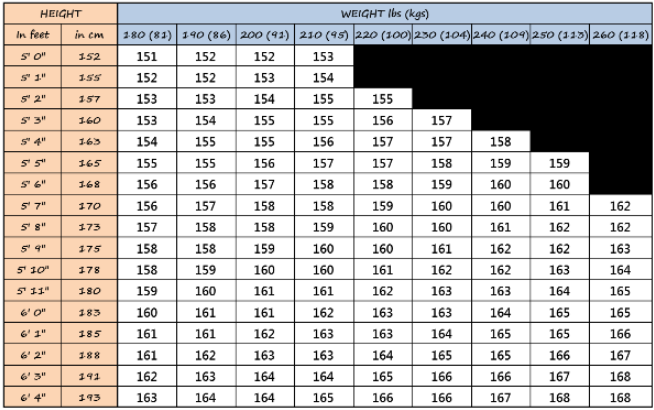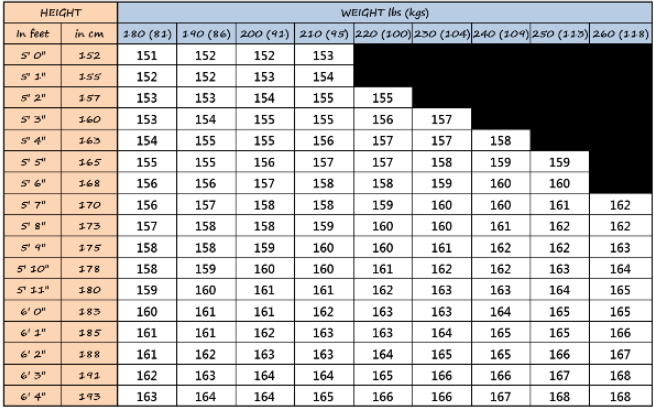 Starting from the suggested length, you will size up or down 2-4cm depending on your riding style. Freeriders and powder eaters will want a longer board for more float, while freestylers will want a shorter board for more maneuverability. All-mountain riders will typically stick to the suggested size, give or take 1cm. Wide boards are available for individuals with particularly large feet 13M+ and 11W+. Purchasing a wider board will reduce the amount of toe overhang therefore preventing drag while carving down the slopes.
Binding Placement (Stance)
The last thing I will touch on is binding stance. How far apart the bindings are from each other, how far back they are set from center, and how angled they are from perpendicular; the answers to each of these questions are completely personal preference. This makes it difficult to recommend a one-size-fits-all strategy. I would start with the bindings set apart about shoulder width. How off-center you set your stance relative to the board often depends on conditions. For days with fresh powder, I will set my bindings back further than I would during a packed groomer day. If you plan to spend the day in the park or riding switch, then I would suggest centering your stance.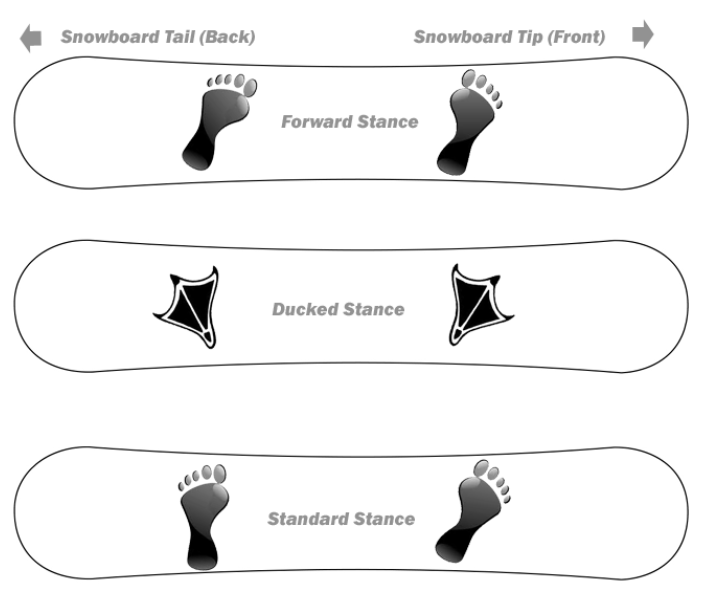 The angle you place each binding at will depend on your riding style and experience. For throwing down tricks in the park and riding switch, an equally angled duck-foot stance is preferred. While racing your buddies down the mountain, a forward leaning stance will benefit the hard carvers. The standard stance is most widely used and a great place to start.
If you really want to dive into the weeds, there are other features not discussed that could sway your decision one way or another. Attributes like: Magne-traction edges, multi-density cores, side-cut radius, camber-rocker variations, and others, vary across manufacturers. Each manufacturer tries to distinguish themselves with their own proprietary designs which they claim to be superior to all others. This can make buying and selling used snowboards difficult, since most of this information is not conveniently stamped somewhere on the board. Following the above guidelines is a great place to start, as well as taking advantage of demo-days on the mountain to experience the wide-range of new technologies coming to market.
I hope that I have provided some useful information to assist your purchasing decision. If you have any questions or would like clarification, please reach out through social media, email, or come visit us at the shop and we'll talk about it over a cup of coffee. I look forward to seeing you all out at our favorite resort, Monarch Mountain, this season.