Colorado may be famous for amazing skiing during the winter and spring months, but if you think this is limited to downhill skiing only, you are missing out on the fun and adventure of cross country skiing in Colorado. Cross country skiing in Colorado is a great way to enjoy winter without the high costs and long lift lines at the resort. Enjoying solitude in the mountains while getting a great workout is as good as it gets! 
What Is The Difference Between Cross Country Skiing And Downhill Skiing?
The main difference between cross country skiing and downhill skiing lies in their respective names. Cross country skiing is done on flatter terrain than traditional downhill skiing, although many trails for cross country do have smaller hills to traverse. In addition, cross country skiing is less expensive than downhill skiing, because it can be done anywhere there is snowfall (including your local park). Downhill skiing, on the other hand, normally requires a long drive and a pricey ski lift ticket to get you to the top of a mountain. 
In addition, the equipment used for cross country skiing is different than that used for downhill skiing. The skis themselves, instead of having wax on the bottom, have tread to help gain traction. The bindings and boots used for cross country skiing are also different from traditional bindings and boots. Boots closely resemble hiking boots, which lock to the bindings only in the toe, not in the toe and the heel as on traditional skis. The reason is that the movement required for cross country is similar to jogging, and your foot requires more range of motion to keep you moving. Poles are optional equipment for many downhill skiers, especially beginners and small children. Cross country skiers, on the other hand, rely on their poles to keep their momentum going as they slide across the level and uphill terrain. 
Another big difference between cross country and downhill skiing is the workout that you get. Downhill skiing concentrates on legs and core strength, while cross country skiing incorporates your arms as well. You could say that cross country is a whole-body cardio and strength-training workout.
Nordic Centers For Beginner Cross Country Skiers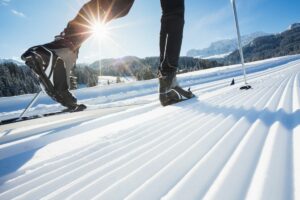 If you are a beginner, or if your cross country skiing preferences lie in groomed trails with easy access to amenities like hot cocoa and craft beers, check out the over 20 nordic centers in Colorado. Uncover Colorado has assembled an easy guide to the different nordic centers in the state, with directions and other helpful links.
Closest to Colorado Springs is the Nordic Center at the Country Club at Woodmoor, which is open to the public. This location is easily accessible to everyone on the front range.  The next closest nordic centers, and wonderful options to change up your trip to the ski resorts in Summit County, are the Keystone, Frisco, Breckenridge and Gold Run Nordic Centers in Summit County.
You Might Like: 7 Tips To Recover From A Long Day Skiing
Ungroomed Trails Close To Home
In the Pikes Peak Region, good cross country ski terrain can be difficult to find, but not because of a lack of local destinations. Many of our beautiful regional parks, including  Bear Creek Regional Park, Fox Run Park, and Red Rock Canyon Open Space offer trails that are great for cross country skiing.  The difficulty lies in how quickly you are able to get out after a snowstorm because snow here tends to melt quickly. 
Other popular locations for cross country skiing within a short drive of Colorado Springs include:
Cheyenne Mountain State Park

Pike-San Isabel National Forest
Cross Country Skiing Across Colorado
Without a doubt, the best cross country skiing in Colorado is in the higher elevations. Some of our favorite locations throughout the state include:
Golden Gate Canyon State Park

Steamboat Lake State Park

Roxborough State Park

Vega State Park
MER Is Your Cross Country Skiing Equipment Destination
Has this list whetted your appetite for adventure? Then stop by MER today to learn more about how you can enjoy the sport of cross country skiing this winter.  We carry a wide selection of new and used cross country gear in our store. As avid cross country skiers ourselves, our staff would love to help you learn all the ways you can get out and enjoy Colorado's beautiful, great outdoors!
More From Our Outdoor Gear Essentials Blog:
Environmental Benefits Of Buying Used Outdoor Gear