Buying your first snowboard, whether new to winter sports or transitioning from skiing to boarding, can be intimidating if you don't know what you are doing. But rest assured, the exhilaration you feel as you zip down your first slope quickly makes up for any discomfort you may feel when entering an outdoor gear store.
This month we give you our best tips for buying your first snowboard and why MER should be your first stop for all your winter sports gear.
Tips for Buying Your First Snowboard
There are three main aspects of snowboarding to consider when buying your first snowboard: your riding style, the right board size for you, and finally, your board stance or binding positions. When buying a snowboard, a good knowledge of these details can significantly impact your experience on the slopes.
Finding Your Riding Style
You could liken snowboard riding styles to the various ways to ride a horse, with different techniques depending on the purpose of the ride. For instance, recreational horseback riding styles differ from those used during competitive events.
To determine your riding style for snowboarding, begin with which type of snowboarding you enjoy (or think you will enjoy. While different snowboard companies tend to use their own label for the various types of terrain, the following are some of the more commonly accepted categories:
Optimized for PowderThese boards have been created with fresh powder days in mind and are not as well-suited for groomed runs. Usually, they come with a rocker, a set-back stance, and a wide nose to provide superior floatation on the powdery snow.
Freeride: Boards for freeriding often resemble powder boards and are suitable for both exploring the woods and off-trail areas and for groomed runs. Freeride snowboards are mostly directional, have a wide nose, and are quite stiff. They are available in a range of rocker-camber combinations.
All-Mountain: All-mountain boards may be the right choice if you are a beginner buying your first snowboard, especially if you are undecided about which riding style you prefer. The board usually has a dual-directional shape and a slighter set-back stance. Additionally, the snowboard's stiffness is moderate, and the camber or flat profile is visible. All in all, these boards perform well, no matter the snow conditions and terrain.
Freestyle: Another option for snowboard riding styles, freestyle boards are constructed for boarders who spend their time in the park, grinding rails, boxes and jibbing, as well as hitting the half-pipe and executing daring jumps. These boards have a soft flex and a symmetrical shape for riding in both directions. Freestyle snowboards are generally not recommended for beginners.
What is The Right Size Snowboard?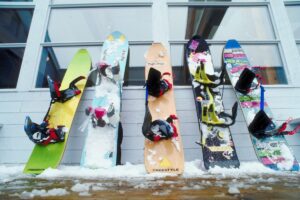 Whether it be a skateboard, a surfboard, or another type of board, the size of the board can have a profound effect on its performance.
While many snowboard makers are leaning away from sizing charts for intermediate and advanced riders, most agree that the rider's height and weight should be taken into consideration – especially if you are a beginner buying your first snowboard.
After considering the recommended snowboard size based on your weight and height, beginners preferring freeriding and snow powder will likely opt for a longer board for more buoyancy. In contrast, freestylers will go for a smaller one for increased maneuverability.
All-mountain snowboarders should stick to the suggested size, plus or minus 1cm. If you have larger feet (13+ for men and 11+ for women), buy a wider board to avoid toe drag while carving down the slopes.
Related: The Ultimate Guide to Choosing the Best Winter Jacket for Mountain Sports
What You Need To Know About Board Stance
The placement of bindings, or the board stance, can significantly impact an individual's snowboarding experience.
The board stance that is right for you depends mainly on your personal preferences, and once you gain more experience gliding down the slopes on a snowboard, your preferences may change.
However, the staff at MER, who are skiers and snowboarders themselves, generally recommend that beginners start with the bindings being shoulder width apart.
The stance of your bindings will be contingent upon your level of expertise and approach to riding. If you are buying your first snowboard, look for a board with the standard stance. A forward-leaning stance would be more advantageous for those looking to race their friends down the mountain. Finally, the duck-foot stance is usually the preference of snowboarders who like to perform tricks in the park or ride switch.
Buying Your First Snowboard? Where You Buy Matters.
You've done your research. You know what your riding style is, your starting snowboard size, and your preferred binding stance. The only question left is, where will you be buying your first snowboard?
There are good reasons to avoid your local big-box outdoor gear retailer and shop local with MER instead. We only accept top-brand and top-quality gear to consign in our shop. That means that you will get the best prices available for quality used gear. And because we give a portion of every sale to local charities in the Pikes Peak Region, you know that your purchase benefits the community you live in and love.
Please stop by our store on Bott Ave. at the foot of Ute Pass in Colorado Springs to see what we have in stock today.