With winter in full swing, there's no better time to invest in a quality winter jacket for mountain sports. Whether you're a hardcore skier, a casual hiker, or an avid snowboarder, a winter jacket is essential for the cold, snowy months.
With so many options available, choosing the best winter jacket for mountain sports can be daunting. That's why we've created the ultimate guide to choosing the best winter jacket for mountain sports.
What to Look for in a Winter Jacket for Mountain Sports
There are tons of factors to consider when selecting a quality winter jacket, including the fabric, weatherproofing, fit, and your preferred style.
The following guide will help you choose the best winter jacket for mountain sports.
Fabric
Winter jackets are available in an assortment of fabrics, including down, wool, and synthetic materials like polyester and nylon. Of course, when choosing a jacket for mountain sports, some fabrics are better suited to keeping you warm and dry than others.
Synthetic Fibers: Synthetic fabrics are highly water-resistant and durable, making them an excellent choice for winter jackets. While not as warm and lightweight as down and not always as weatherproof as wool, jackets made with synthetic fibers are more affordable and often easier to maintain.
Down: Down has long been a preferred material for winter jackets, as it is lightweight and ultra-warm. Plus, down feathers are naturally resilient to water, making down a great option for Colorado skiers and snowboarders. However, when down finally gives in to moisture, it can lose fluffiness and warmth. That's why most down winter jackets are treated with a water-resistant coating to protect them from moisture.
Wool: Wool has been a popular fabric for winter activities for decades. Many avid skiers and snowboarders tout the benefits of wool as their base layers, and for good reason. But wool is an ideal fabric when choosing a jacket for skiing or snowboarding because of the fabric's inherent warmth, breathability, and ability to repel water.
Weatherproofing
Weatherproofing is one of the most important factors when choosing a winter jacket for mountain sports. While staying warm and cozy when temperatures drop is crucial, it's equally important to stay dry in the rain or heavy snows that often fall at Colorado's many ski resorts and in the backcountry. Here are four features to look for:
Water-Resistant Materials: Look for a water-resistant jacket. Waterproof jackets are the gold standard, but if you cannot find a waterproof ski jacket in your budget, look for a water-resistant fabric to keep moisture off your jacket and away from your skin.
Waterproof Zippers: Waterproof zippers are a great addition to any winter jacket. This feature helps lock out water from zippers and pockets, protecting your gear and clothing from water damage.
Hoods: A hood is an essential feature of any winter jacket. Not only does it protect your head from precipitation, but it also shields your face and neck from cold weather.
Internal Fabric: The interior fabric of a winter jacket is equally important when it comes to weatherproofing. Invest in a jacket with an internal fabric that is highly water-resistant and durable
 New to Colorado's winter mountain sports? Check out this article: Learn To Ski This Season With These Tips.
Fit
Choosing the right size winter jacket can take time and effort. A winter jacket that's too loose will allow cold weather to penetrate, whereas a too-tight jacket will restrict movement and be uncomfortable to wear.
A general rule of thumb is to select a winter jacket one size larger than what you usually wear. Doing so ensures you'll have plenty of room to wear a thick sweater or a hoodie underneath.
Specifically, though, when choosing the right winter jacket for mountain sports, consider these factors: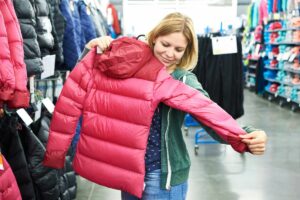 Torso Length: The first thing you'll want to look for is the torso length of the jacket. While most brands determine their sizing by chest size, the torso length is an equally important factor. If the jacket is too short, snow will creep in between your layers. Conversely, if the coat is too long, you may be encumbered on the mountainside.
Sleeves: Look for sleeves that fall just below your wrist bone. Many winter jackets have elastic bands on the cuffs, which help to keep the cold out and help the sleeve fit snugly around your wrist and gloves.
Waist: Next, you'll want to look at the fit of the waist of the coat. Most winter jackets for mountain sports have an adjustable waist. Ensure the waist fits snugly around your torso without being too tight or constricting.
Style
Yes, we know it sounds ridiculous, but the style of your jacket can make a huge difference to your comfort and confidence on the slopes. So, before you choose a winter jacket, consider the jacket's style and what activities you will be participating in while wearing the jacket.
Puffer coat: Puffer coats are designed to be very warm and are also generally one of the most affordable winter jacket types. A puffer coat is an excellent option if you're on a tight budget.
Parka: A parka is a longer, heavier winter jacket designed to keep you warm in extremely cold, wintry weather. Because they are typically longer than puffer jackets, they are the popular choice for cross-country skiing in Colorado, downhill skiing, and snowboarding.
MER: Getting the Best Winter Jacket for Mountain Sports Without Breaking the Bank.
Whether you are new to winter sports or are a seasoned veteran of the slopes, MER has the quality used gear you need to start your winter adventure. We have a wide selection of coats perfect for all of your family's outdoor adventures, and we also carry boots, gloves, hats, scarves, skis and poles, and snowboards. You can find just about any gear and products you need for winter sports at MER and at a price you can afford.
Our inventory changes frequently, so stop by our store on Bott Avenue in Colorado Springs' westside today to see what we have in stock today. We look forward to seeing you and getting you geared up for a Colorado adventure this winter!