Do you want to learn to ski? You are not alone. Learning how to ski is something that many people aspire to do. When you are from Colorado, most people assume that you ski, snowboard, or in some other way participate in winter sports. But if you are one of the many who never got around to learning this fun skill? In all likelihood, it's because skiing appears a little daunting. Skiing has a reputation as an expensive, exclusive and challenging activity.
However, learning how to ski doesn't have to be like this. By taking precautions and following simple guidelines, anyone can learn how to ski easily and in a safe environment. Read on for our six tips on how to learn to ski this winter.
Know Your Limits
Before you even think about taking a lesson to learn to ski, you need to know your limits. Understanding your skill level as a beginner will keep you from overdoing it by trying to keep up with more advanced skiers.
As much fun as skiing is, skiing with people with much more experience makes you more likely to get into dangerous situations. This could lead to injury or, even worse, death. Take your time, take some beginner lessons, and be patient with yourself. Gradually building your skills will ensure that you enjoy hitting the slopes and do not dread your weekend at Monarch.
Dress For The Occasion
What does dressing for the occasion mean when learning to ski? It means dressing for comfort and safety. Chances are that you will spend some time falling onto your backside while you learn to ski, and snow can and will find its way between your layers. Find a happy medium between being too warm (which makes you tired and sweaty) and too cold (which could result in frostbite, a painful and potentially fatal condition).
Pay special attention to your extremities – socks made from Merino wool and waterproof gloves can protect you from the cold and keep you dry. Wear a hat, even under your helmet, to protect your head and delicate ears from the cold weather.
Use The Right Equipment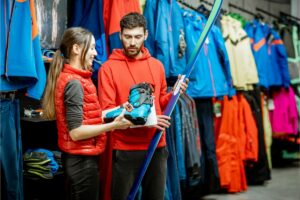 Our third tip to help you learn to ski is to use the right equipment. This means selecting skis that fit your skill level as a beginner. A novice needs a shorter pair of skis to help navigate the slopes easily. Also, consider the width of the skis you choose. You may think that wider skis with a larger surface area are better for a beginner, but the opposite is true. Especially when you first learn to ski, skinnier skis are easier to navigate and turn.
Finding the right pair of boots is an essential component of your equipment. Look for a soft flex boot that will be more comfortable to wear and walk in. Fit matters when choosing ski boots. The right pair will be snug but not too tight and will not allow your heel to lift. Just because you wear a size 7 in sneakers does not mean a size 7 in boots will be the right fit. Try on multiple pairs, and choose the pair that feels comfortable and allows you to walk comfortably.
When it comes to your helmet, you should choose a helmet that is certified by the Ski Safety Council. A helmet will protect your head and keep you safe if you fall.
Practice!
Once you've found your equipment, you need to get used to your equipment. Beginners will often struggle with this, but there's a simple way to get around this issue. Practice! Start on the bunny hill and work your way up to green slopes and then to blue. Practice using your skis and get used to them. Getting comfortable with your skis and boots will help you learn to ski more quickly. Learn to maintain your balance and refine your turns. Once you are confident in keeping your balance, start making gentle turns using the muscles in your legs (generally, ski instructors recommend that beginners do not use poles). Slowly progress until you feel comfortable making turns.
You Might Like: 7 Ways to Recover After a Long Day of Skiing
Ask For Help
Very few of us learn to ski without some instruction. Whether a formal lesson at one of Colorado's 26 ski resorts or the help of an experienced friend, don't be embarrassed to ask for help! We have all been there, and all know how exhausting and frustrating your first few trips down the slopes can be. But, with a bit of practice and patience, you will soon learn to ski and enjoy the crisp mountain air and spectacular views of Colorado's famous winter wonderlands.
Final Tip: Learn To Ski With The Right Priced Equipment
If you want to learn to ski but have put it off because of the high price tag that often comes with getting outfitted for the sport, procrastinate no longer! MER makes winter sports accessible to all Coloradoans at our used-gear-consignment store in Colorado Springs. From socks and gloves to hats and helmets to skis and boots, we have everything you need to learn to ski, all at a great price.
And even better, you can feel good shopping at MER. We are a local business that donates a portion of our profits to local charities and nonprofits. In fact, as of September 2023, we have donated Your money does good for the Colorado community, not for the bottom line of giant corporations.
See the MER difference today at our west-side Colorado Springs location.
MER. Great Gear. Greater Cause.