As an outdoor gear consignment store committed to preserving the awe-inspiring beauty of Colorado's open spaces, MER is proud to promote the leave no trace principles, a set of guidelines to minimize our environmental impact while enjoying the great outdoors. This month we will explore these principles in detail and provide practical tips on how you and your family can practice them.
As a resident of Colorado, you are privileged to have access to some of the most breathtaking landscapes in the United States. From the regal peaks of the Rocky Mountains to the crystal-clear streams cascading down the valleys, the beauty of Colorado is unparalleled and treasured by outdoor enthusiasts.
Understanding the Leave No Trace Principles
The leave no trace principles are ethical guidelines developed by outdoor conservation organizations like the Leave No Trace Center for Outdoor Ethics. These principles aim to educate fellow outdoor enthusiasts on minimizing their impact on the environment, preserving natural resources, and maintaining the quality of outdoor experiences for future generations.
The Seven Principles of Leave No Trace
Now that we understand the meaning of 'leave no trace,' we next need to know the seven fundamental principles of leaving no trace and some practical ways you and your family can put them into practice while still enjoying Colorado's amazing outdoor adventures.
1. Plan Ahead and Prepare
The first of the leave no trace principles is to plan for your time outdoors. This not only ensures your safety but also helps protect the environment.
How to Practice: 
When planning your trip, consider the area you are about to visit.
Choose less popular trails and campgrounds to avoid contributing to overcrowding.
Before leaving, double check the weather forecast so you can pack appropriate clothing and gear. Bring along reusable water bottles or a water filtration system to reduce plastic waste.
Pack enough food and snacks, but avoid items with excessive packaging that you will have to bring back out with you.
Check for local rules and regulations for enjoying the outdoor space, and follow them.
2. Travel and Camp on Durable Surfaces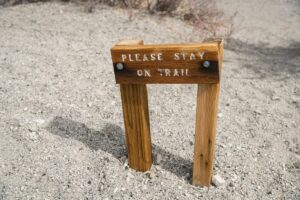 Stick to established trails and campsites to prevent soil erosion and protect the habitats of local wildlife.
How to Practice: 
When hiking or camping, remember to stay on designated trails, even if they are muddy or wet. Walking around muddy areas widens the trail and damages vegetation.
Set up camp at least 200 feet from lakes, streams, and other water sources to protect water quality and wildlife habitats.
Respect trail closures and restricted areas, which are often in place to protect sensitive habitats and species.
You Might Like: What is Dispersed Camping in Colorado?
3. Dispose of Waste Properly
Managing waste is one of the most crucial leave no trace principles. Whether lunch wrappers or human waste, ensure you dispose of all waste responsibly.
How to Practice: 
If you pack it in, then pack it out.
Carry a small trash bag or container to pack out all trash and leftover food.
Use established bathroom facilities whenever possible. If none are available, bury human waste in a small hole about 6-8 inches deep and at least 200 feet from water sources.
Clean up after your pets. Pack out their waste or bury it in a small hole, just like you would for human waste.
4. Leave What You Find
Preserve the outdoors for others to enjoy.
How to Practice: 
As beautiful or exciting as a flower, rock, or other natural object may be, leave them as you find them. Instead, memorialize the object by taking a picture or making a sketch if you are artistically inclined.
Avoid damaging live trees by not carving into the bark or attaching ropes for hammocks or slacklines.
And here is one you may not have thought of – examine, sketch, photograph, but do not touch or remove historical or cultural structures and artifacts.
5. Minimize Campfire Impact
No one living in the western United States is ignorant of the dangers of wildfires. While a natural wildfire can be healthy for a forest, avoid being the human cause of a fire that could devastate our beautiful Colorado landscape.
How to Practice: 
Check for fire restrictions before starting a campfire.
Use established fire rings whenever possible.
Keep fires small and manageable. Burn only sticks from the ground that you can break by hand, and avoid using firewood from outside the area, which can spread invasive species.
Never leave a fire unattended.
Completely extinguish your fire before leaving the site – doing so is a fundamental leave no trace principle.
6. Respect Wildlife
Keep wildlife wild. We are visitors to the outdoors and the creatures who live there, and should respect their habitat.
How to Practice: 
Observe wildlife from a safe distance. Remember this 'rule of thumb' – you are at a safe distance if the animal you are observing can be covered with your thumb.
Never feed wildlife. Feeding animals can make them dependent on humans for food and cause health problems.
Finally, store food and trash securely (such as in a bear-locker or canister) to avoid attracting wildlife.
7. Be Considerate of Other Visitors
The final of the leave no trace principles is one we all need to observe – be a good steward of the outdoors and each other!
The grandeur of Colorado's outdoor space deserves to be enjoyed by everyone. But doing so requires that we respect the land and our fellow outdoor enthusiasts. Protect the quality of their experience, just as you would like them to protect yours.
How to Practice:
Keep noise levels down to allow others to enjoy the sounds of nature.
Yield to other trail users. Generally, hikers yield to equestrians, and bikers yield to both hikers and equestrians.
MER – A Sustainable Choice as You Leave No Trace
At MER, we believe that every outdoor adventure is an opportunity to practice the leave no trace principles. By following these guidelines, we can all play a part in preserving Colorado's stunning natural landscapes for future generations.
At our used gear consignment store in Colorado Springs, we have everything you need to demonstrate your dedication to leaving no trace in your adventures. From hiking and backpacking gear to skiing and snowboarding, we have name-brand equipment at great prices that your wallet and your conscience will love.
MER: Great Gear For A Greater Cause.