If gliding down the slopes on skis or a snowboarder is not your thing, there are plenty of other outdoor winter activities for non-skiers in Colorado. This month we will share a few of our favorite things to do when we are not feeling the call of the slopes.
Winter in Colorado is a season of unparalleled beauty, with snow-covered mountain ranges and pristine landscapes that seem to go on forever. For non-skiers, however, the prospect of enjoying all that Colorado offers during this time of year may seem limited. But fear not, for there are plenty of winter activities in Colorado that don't involve skiing. So grab your winter gear and get ready to explore the best of Colorado's winter wonderland.
Explore the Winter Landscape with Cross-Country Skiing
Often, individuals who do not like downhill skiing find that cross-country skiing in Colorado is a great alternative that allows them to enjoy all that winter weather has to offer.
While downhill and cross-country skiing involve sliding across the snow wearing smooth blades attached to your feet, that is about where the similarities end. Traditional downhill skiing is generally done on groomed ski slopes, whereas cross-country skiing can be done in flatter areas, wherever snowfall occurs. Even the equipment for cross-country skiing is different from traditional downhill skiing.
Cross-country skiing is one of Colorado's best alternative winter activities for non-skiers.
Snowshoeing and Cold Weather Hiking
Snowshoeing is an excellent option for winter activities for non-skiers.
Unlike skiing or snowboarding, there's no need for lessons or expensive equipment, and you can go at your own pace. Snowshoeing works by distributing your body weight over a larger surface area, which prevents you from sinking deep into the snow. The design of snowshoes includes a large frame that supports your weight and a webbing or mesh surface that provides traction on the snow.
The frame and webbing on a snowshoe work together to keep you on top of the snow rather than sinking into it. The design allows you to walk more easily through deep snow and prevents fatigue and muscle strain.
No matter your skill level, snowshoeing is a fun and accessible way to enjoy Colorado's winter landscape.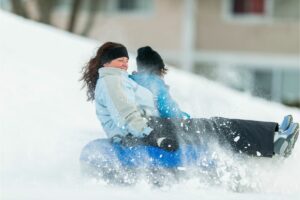 Sledding and Snow Tubing
If you want fun winter activities for non-skiers, return to your childhood and try sledding and snow tubing again!
We love this option for non-skiers because the activity is easily accessible to all ages and fitness levels. Here in Colorado Springs, snowfall brings kids of all ages to Cottonwood Creek and Bear Creek Parks, where the smiles on the faces of kids and adults alike give testimony to how much fun you can have sliding down a hill.
Additionally, some of Colorado's best ski resorts have snow-tubing parks, where skiers and snowboarders are unwelcome. For instance, the family-friendly Tubing Park at Monarch Ski Resort is open on weekends during winter and for two full weeks during Spring Break (March 10 – 26). Click here for more information.
Ice Sports in the Rockies
If the above options are not appealing, there are many options for ice sports for the outdoor enthusiast in Colorado.
Ice skating is the go-to sport for visitors and natives alike who do not like to ski. Many winter destinations in Colorado have outdoor ice rinks where you can twirl to your heart's content, surrounded by gorgeous scenery.
Ice climbing is an option for winter activities for non-skiers who have experience climbing outside of the winter months. Colorado has several excellent ice climbing locations, including Clear Creek Canyon, Durango, Ouray Ice Park, Hidden Falls, and Loch Vale Gorge.
Do you love fishing? If so, there is nothing quite like the experience of ice fishing. Eleven Mile Reservoir, Trinidad Lake State Park, and Chambers Lake are among Colorado's top-rated spots for ice fishing, with abundant rainbow trout, lake trout, and other targeted fish species. Before heading onto a lake, however, you must always check ice conditions and ensure you have all the proper equipment, including warm layers of clothing.
Relax in Hot Springs
Topping the list of incredible winter activities for non-skiers and skiers alike is a visit to one of Colorado's 29 hot springs resorts. Truly one of the more unique experiences in Colorado, sitting wearing a bathing suit in a naturally heated pool allows you to immerse yourself in warm water while snowflakes fall all around you.
If you enjoy relaxing in a sauna or hot tub, you will love Colorado's hot springs!
MER – Everything For Winter Activities for Non-Skiers and Skiers
Whether you love skiing or not, MER has everything you need for all the outdoor winter activities our great state offers. From jackets for mountain sports to gloves, hats, snow pants, and equipment, our selection of gently-used outdoor gear is incomparable. Don't believe us? Stop by our store on Bott Street in Colorado Springs today to see why so many locals love MER.